Directions

Family Handbook

2017-2018 Calendar

Interactive Calendar

June Camp Brochure

Child Health Form

Psychology
Department Humanities &
Social Sciences

Laboratory Schools

Campus Children's
Centers

NAEYC Accreditation

Other Useful Links




---
---
---
Welcoming a Visiting Scholar & Family

Dr. Byungho (Tony) Lee is an associate professor in the department of Early Childhood Education at Duksung Women's University in Seoul, South Korea. For the 2017-18 academic year, Tony will be spending his sabbatical in the CMU Psychology Department, doing observations at the Children's School, visiting university classes, and conducting research.
Tony's research focuses on educational technology, language development, and parent involvement in early childhood education. Tony worked as a preschool teacher for 5 years in Korea and the US, and he was involved in developing the Kindergarten program at Seoul National University Children's Hospital School. In 2006, he received his Ph.D., which examined young children's computer literacy development in the home and school environment, from the University of Illinois at Urbana-Champaign. As well as teacher education, he is involved in developing an open source system for developmental research in Korea and designing and testing a Smart Toy that was showcased at an international expo in 2016.
Tony's wife, Ji Hyun, worked as a veterinary nurse and loves animals. SeoYi is a brave 27-month-old girl who flew 14 hours to meet a Dinosaur in Pittsburgh. The family also has a bunny named Choco and a tree sparrow named Cookie, but they are staying in Korea. The whole family is excited to be part of the Children's School community.
Singing for Peace

The preschool and kindergarten friends honored the legacy of Martin Luther King, Jr. by holding a Peace & Friendship Sing-Along led by Mrs. Bird at the CMU Cohon University Center on Friday morning, January 27th. Thanks to all the families who voiced dreams for peace with us! One of the songs we sang was "This Little Light of Mine", which resonates with one of King's quotes that, "Darkness cannot drive out darkness; only light can do that. Hate cannot drive out hate; only love can do that." We also sang, "Love Grows", "We're Building a Better World", and "Won't You Be My Neighbor?" We invite you all to join us each day in singing with our children for peace.
Children's School role in CMU's Dietrich College

See the January 19th article entitled, "10 Things to Love about CMU's Dietrich College". The Children's School is featured under "#3 No Education School? No Problem."

Honoring Founder, Dr. Ann Baldwin Taylor
The educators of The Children's School are pleased to announce the naming of The Ann Baldwin Taylor Early Childhood Scholarship Fund for the Carnegie Mellon University Children's School.


We wish to honor Dr. Ann Baldwin Taylor, Children's School Founding Director 1968-1993, and her legacy by providing a venue for children of all economic levels to benefit from a Children's School education. A wonderful developmentally appropriate education for young children exists at Carnegie Mellon University Children's School because of Ann. In 1968, her vision of a progressive, experiential learning environment, along with exemplary leadership, professional development, and a supportive community, laid the foundation for the Children's School's current success.

Miss Hancock arranged a reception in Ann's honor on Sunday, December 20, 2015. She, Dr. Carver, Mrs. Bird, and retired teacher Judy Smalley attended the celebration (pictured below), along with educator Judy Hallinen, who now heads CMU's Gelfand Center for Service Learning and Outreach. Donations can be made to the Ann Baldwin Taylor Early Childhood Scholarship Fund via the Children's School website.

Art + the Brain
Patricia Maurides often works at the intersection of art and science. A biologist and visual artist, the adjunct professor of art at Carnegie Mellon University is known for designing courses that integrate fine arts practice with the disciplines of biology, neuroscience and psychology. Full Story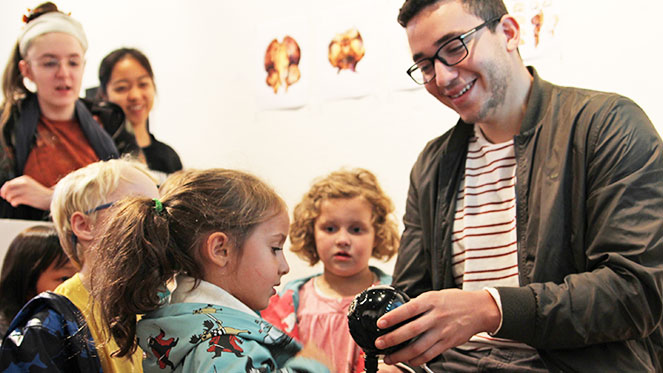 Jillian Wendolowski Selected for NAEYC's Inaugural Young Professionals Advisory Council (YPAC)
Jillian Mangan Wendolowski will have the opportunity to help the National Association for the Education of Young Children (NAEYC) recruit, engage, and retain young professionals in the field of early childhood education. The 15 members of NAEYC's inaugural Young Professionals Advisory Council (YPAC) will serve one-year terms (http://www.naeyc.org/getinvolved/YPAC). Jillian is teaching preschool 4's and gym during her 7th year at the Children's School. Her optimistic perspective, respectful attitude, effective interactions with adults, proactive stance, strong work ethic, leadership and organizational skills, and dry sense of humor will be key to her impact on the YPAC team, and her communication and technology savvy help the team reach their target audience. Congratulations, Jillian!